¡Hola!
You may already know that la calabaza means pumpkin.  For example: La calabaza es rica en vitamina C y una buena fuente de fibra. (Pumpkin is rich in vitamin C and is a good source of fiber.)  But, do you know this Spanish idiom – dar calabazas?  It means to give someone the brush off, to turn someone down, to reject, and it is used especially in the situation of refusing a romantic suitor.
He invitado a Ana a ir al cine, pero me ha dado calabazas. (I invited Ana out to the movies, but she turned me down.)
Here is a video from 121spanish.com about food idioms such as dar calabazas.
Hotels.com has an article called Idioms of the World which includes dar calabazas. It states that to give someone pumpkins is to turn someone down, and it originates from Ancient Greece, where pumpkins were considered an anti-aphrodisiac.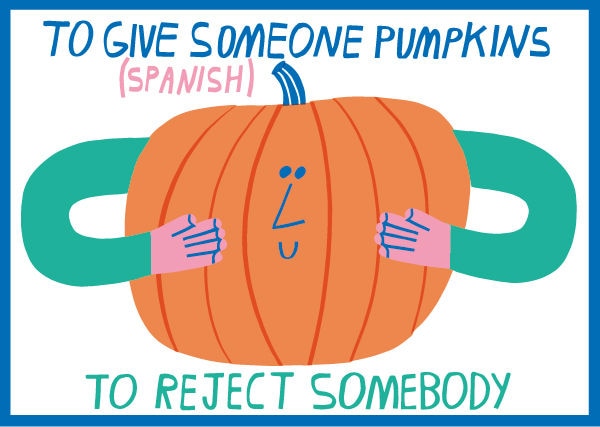 The Hotels.com Idioms of the World article contains phrases from many different countries.  Besides dar calabazas, I liked this one from Poland: Not my circus, not my monkeys.  It means not my problem. (Nie mój cyrk, nie moje malpy.)  Click Here to read the article.
¡Feliz Miércoles y Nos Vemos!
Image Credit: Hotels.com Idioms of the World https://au.hotels.com/hotel-deals/idioms-of-the-world/